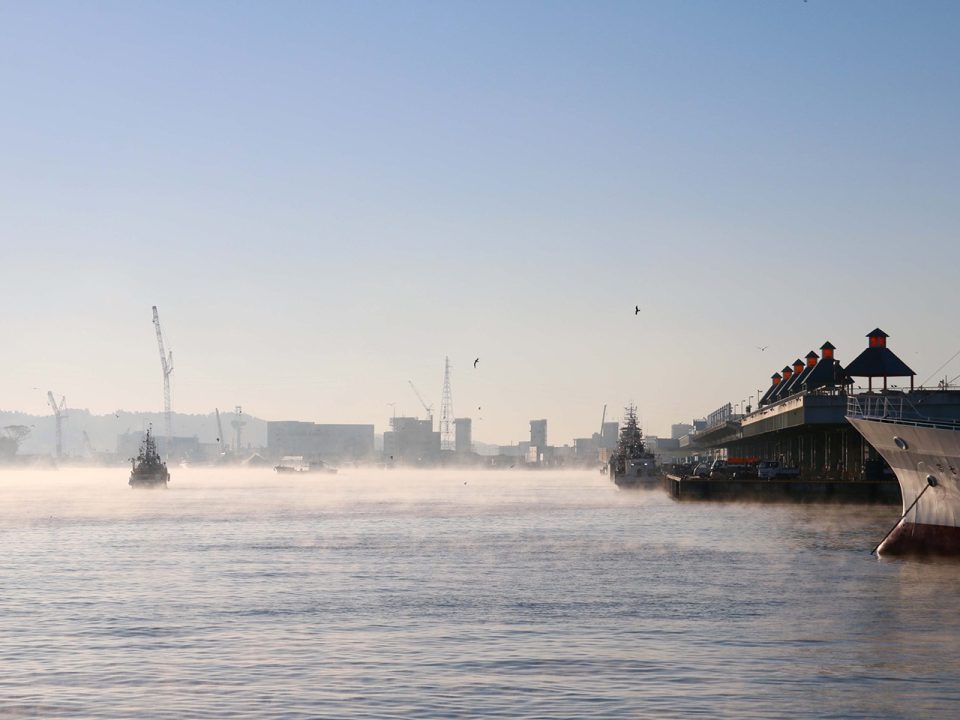 ---
From November to February「—Japan's intimate relationship with nature is evident by how each subtle change is celebrated. The seasons are divided into 24 micro-seasons related to a solar calendar. Rittou (beginning of winter) to Daikan (coldest season) and Risshun (beginning of spring) in the 24 solar segments—」a phenomenon called Kearashi (frost smoke) occurs in the early morning in Kesennuma Bay.
This phenomenon is caused by the temperature difference between air and seawater, which generates fog. During the night, when air cooled on land flows silently over the sea, water vapor is generated from the surface of the sea, which is warmer than the air, and this resembles steam. In meteorological terminology, the phenomenon is known as "steam fog."
As the air warms, the fog disappears.
This phenomenon can be seen in Hokkaido, Tohoku, and other regions, but Kesennuma Bay is said to be blessed with conditions that favor the occurrence of Kearashi, such as its deeply indented topography from the open ocean and quiet waves.
Early in the morning in winter, when the temperature is at its lowest for the day, the fog begins to form over the Kesennuma Bay area where the wind is calm, and the faint glow of the rising sun reflects the shimmering fog. The morning sun gives the surface of the sea and the fog a momentary gold shine. Vessels navigate through the gold, and announcements of the seafood auction can be heard from the fish market. This marks the beginning of a day in Kesennuma.
The meteorological term "steam fog" does not fully capture the beauty of Kearashi—it is the very essence of the scenery at Kesennuma.
In wintertime, photography enthusiasts are drawn to the charm of Kesennuma Bay.
A close-up, a distant view, the arrangement of fishing boats, people working in the bay—what would you choose to photograph?
*The commonly used Kanji character "気" (ke) is an abbreviation of "氣" (ke). "氣," which means "source of energy," is formed by combining the radical "气" (kigamae) with the character "米" (kome, meaning "rice"), which nourishes our life.
The early morning fog rising from the surface of the sea at the beginning of a day brings to mind the energy implicit in "氣," so we intentionally use this character in the term "氣嵐" (Kearashi).
---