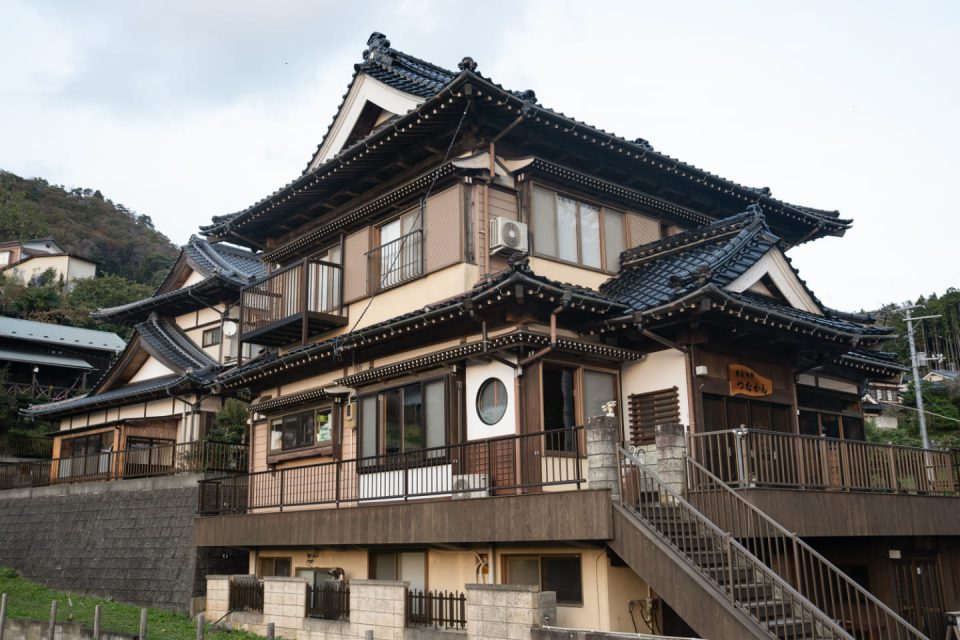 Karakuwa Goten(Fisherman House)
---
One of the biggest inlets on the Karakuwa peninsula is dotted with houses of fishermen, winding deep into the hills above. Much in the same way people like to "show off" their nice cars, fishermen show off their boats of course, but interestingly enough their homes as well; their "palaces" so to say. After being away at sea for a long time, hopefully with a big payoff, the fishermen return to take a much needed "stay-cation", and having a nice home is part of the motivation to carry them through a grueling months-long journey at sea.
There's a special place here, the "Tsunakan" guest house, which provides travelers with a similar experience of "returning" to port for delicious food and relaxation. The owner, the cordial "fisherman's wife" Ichiyo Kanno, is always ready to welcome you home from your journey, and cook up an amazing spread of freshly caught sea food. This house is your typical large, traditional Japanese home with multiple stories, and can give you as close to an "at-home" experience as you could want. Much like a "home stay" program, you'll be welcomed here with open arms and taken care of.
Tsunakan has played a pivotal role in Karakuwa's recovery, having hosted volunteers from all over Japan, despite taking heavy damage during the tsunami. It represents the welcoming atmosphere of Kesennuma, and really makes you feel like you'll always have a home to return to when you find yourself in port.
---
Karakuwa Goten(Fisherman House)
---
Charge
1 Night Stay with 2 Meals 10,230 Yen
1 Night Stay with Breakfast 7,130 Yen
1 Night Stay Only 6,120 Yen
*Discounts for students and groups (10 people or more) available
*1 Night with 2 Meals: Elementary School Students 7,130 Yen, Preschoolers 4,580 Yen
---
---
---
---