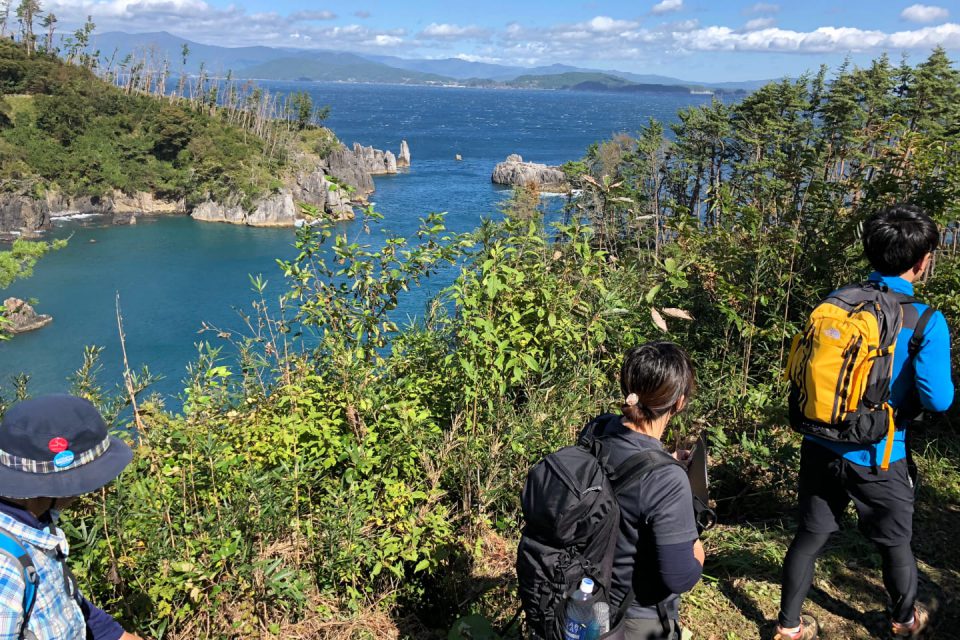 ---
The Tohoku region of Japan was severely damaged by the 2011 earthquake and tsunami, and as part of the reconstruction project, a long trail called the Michinoku Coastal Trail, which connects approximately 1,000 km along the Pacific coast, was opened in 2019. On this trail, there are many spots where you can enjoy dynamic views of the sea, such as along the steep cliffs of the ria coastline, which is jagged with many inlets.
You can try taking on the whole route over several months, or you can choose to walk just a part of it over just a day or two. Karakuwa Peninsula in Kesennuma is a part of this course, and the section of the course that passes through here is quite special. You can enjoy, not only the rich nature of a national park, but also the different views of the sea on the east and west coasts of the peninsula.
The east side faces the Pacific Ocean, and its majestic, rough seas and dynamic rock surfaces are breathtaking. You can see the "Tsunami Stones" brought in from the sea by the 2011 tsunami and Oreishi, a huge stone pillar whose tip was broken off by a tsunami in 1896. On the western side, the rich nutrients from the mountains flow into the sea, making it the perfect environment for cultivating oysters and scallops. You can see beautiful oyster farming rafts floating on pristine water and watch fishermen at work on fishing boats.
---