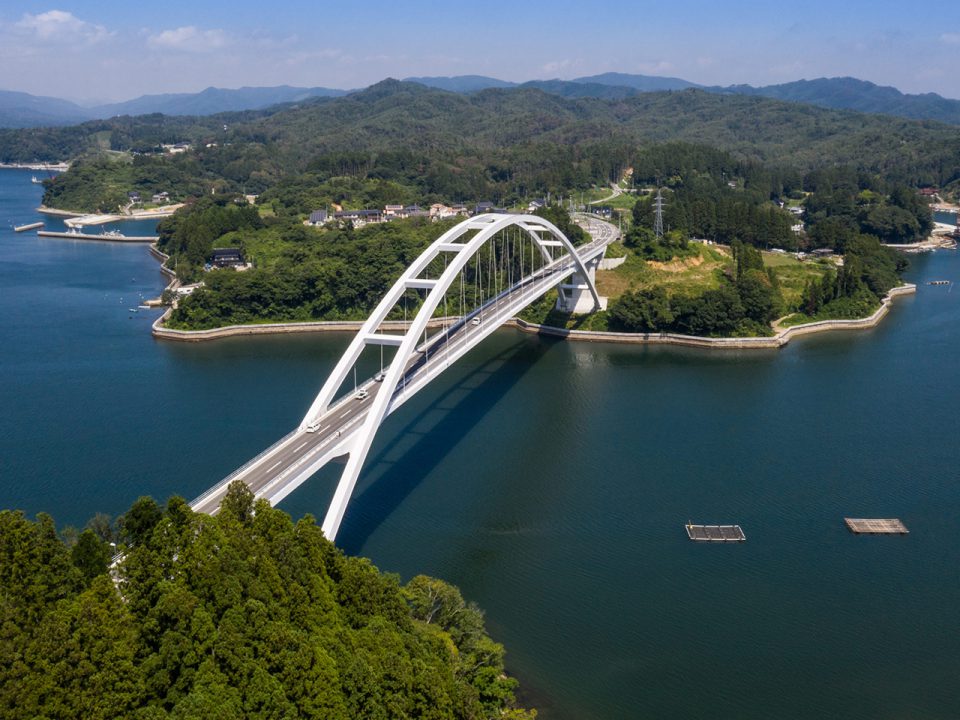 Kesennuma Oshima Ohashi Bridge
---
Beyond Kesennuma Bay Crossing Bridge is the 356-meter-long white arched bridge called Kesennuma Oshima Ohashi Bridge, which leads to an island called Oshima.
Oshima is the largest inhabited remote island in the Tohoku region. Although it had been connected to the mainland by regular and temporary ferries, a bridge to the mainland was a long-held wish for the residents of Oshima both to improve convenience and ensure safety in times of emergency.
The need for this bridge was felt even more strongly when Oshima was isolated after the Great East Japan Earthquake in 2011. Miyagi Prefecture, the project developer behind the bridge, promoted the project and opened the bridge on April 7, 2019, eight years after the earthquake.
The final step of assembling the arch portion of the main body of the bridge was performed at Kesennuma Port and Commercial Wharf. Components were transported by hoist ships and erected on the piers in March 2017, two years before the bridge opened. This dynamic hauling operation of the 2,700-ton main body of the bridge was featured in the NHK documentary series Professional: Shigoto no Ryugi.
The mainland side of Kesennuma Oshima Ohashi Bridge is named "Tsurugaura" and the Oshima side is named "Kameyama." The bridge is nicknamed "Tsurukame Ohashi Bridge" in honor of these two sides.
Kesennuma Oshima Ohashi Bridge can be crossed on foot. There are parking lots on both sides of the bridge, so visitors can enjoy the spectacular views as they walk the full distance.
---