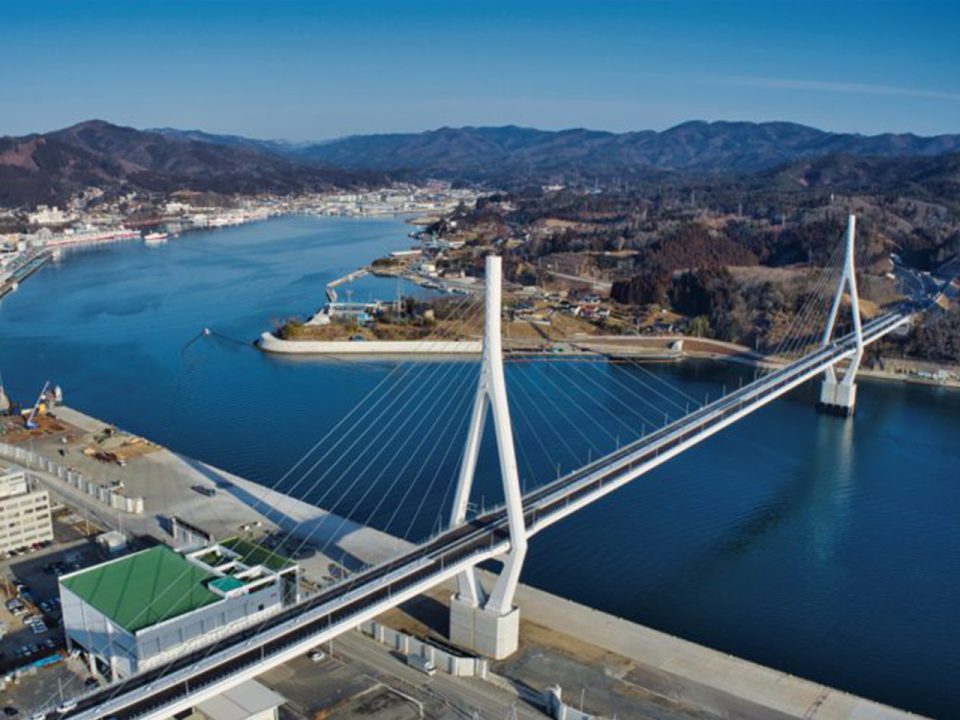 Kesennuma Bay Crossing Bridge
---
Supported by two main towers 115 meters above sea level, Kesennuma Bay Crossing Bridge is the only bridge on the Sanriku Expressway that crosses the sea.
The total length of the bridge is 1,344 meters (680 meters at sea and 664 meters on land), and the height from the surface of the sea to the bridge girders is 32 meters. The overwater section is a cable-stayed bridge in which the bridge girders are supported by cables fixed on the main towers, making it the largest bridge of its kind in the Tohoku region. At night, the main towers and cables are illuminated, further accentuating the sleek appearance of the bridge.
The Sanriku Expressway is a 359-kilometer-long automobile-only road connecting Sendai City, Miyagi Prefecture, to Hachinohe City, Aomori Prefecture, via the coast of Iwate Prefecture. As a major project for recovery from the Great East Japan Earthquake, Kesennuma Bay Crossing Bridge was constructed and opened in March 2021, and the complete stretch of road was opened in December 2021.
The road was designed not to get flooded from tsunamis and is expected to function as a "life-saving road."
The term "Kanae" in the nickname "Kanae Ohashi Bridge" is a reference to the old name of Kesennuma Bay, "Kanae-ga-ura." It also represents the passionate desire of the residents of Kesennuma to realize (kanae is also a verb) their dreams and hopes after overcoming the Great East Japan Earthquake.
From Kesennuma Bay Crossing Bridge, one can see the city of Kesennuma, the fish market, the Kitakami Mountains, and the Pacific Ocean in the distance.
---