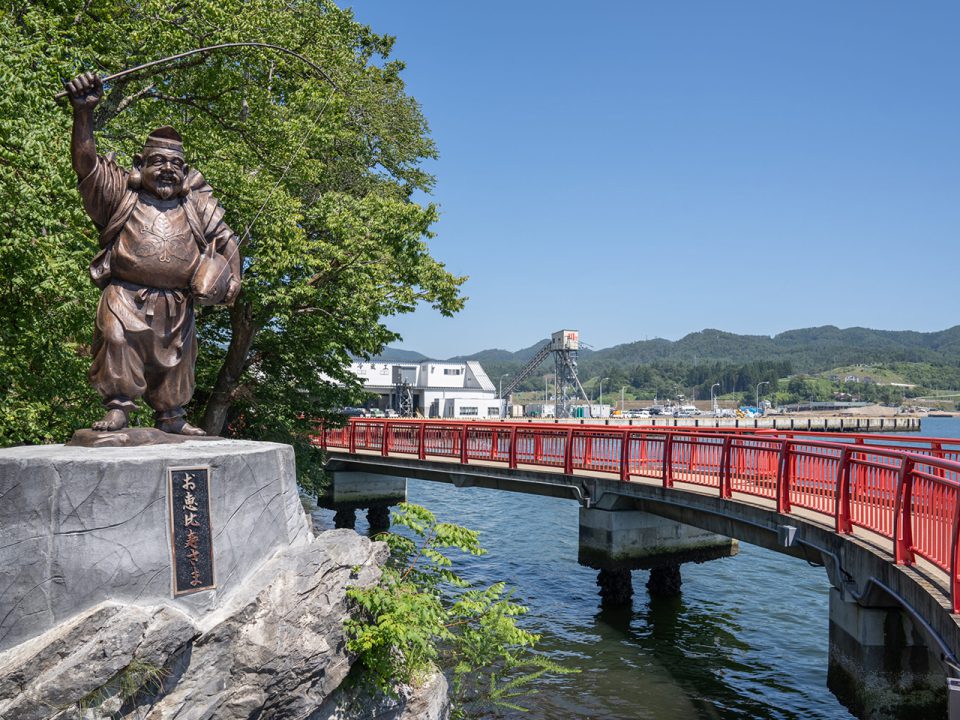 View of Kesennuma Fishing Port
---
The marine trail around Shinmeizaki, where Isuzu Shrine is located, is the Ukimi Kaido Trail. The view from the Ukimi Kaido Trail is unique to the fishing city of Kesennuma.
Near the northern entrance of the Ukimi Kaido Trail sit an ice-making and refrigeration factory and an ice-breaking tower from which ice is loaded onto fishing boats.
Looking south, you can see Kesennuma Bay Crossing Bridge and the fishing preparation wharf where many fishing boats are moored.
If you take the Ukimi Kaido Trail to the tip of Shinmeizaki, you will see a statue of Ebisu (the patron God of fisherman) and the reddish-orange-colored Ukimido Hall. On the opposite shore, you will see a tourist hotel, souvenir stores, and a biomass power plant.
Looking out over the small bay to the west, you can see residential housing and waterfront commercial facilities newly built after the earthquake, the seawall that protects the town from tsunamis, and fishing boats and sightseeing boats floating on the sea.
In 1611, during the reign of feudal lord Date Masamune, Spanish envoy Sebastian Vizcaino and his companions visited the Sanriku coast and noted down Kesennuma Bay as the best port. Over time, Kesennuma became the home port for fishing boats sailing to the Atlantic Ocean and the rest of the world.
Somewhere in this landscape, you may be able to see fishing boats leaving the port and the people who see them off.
---