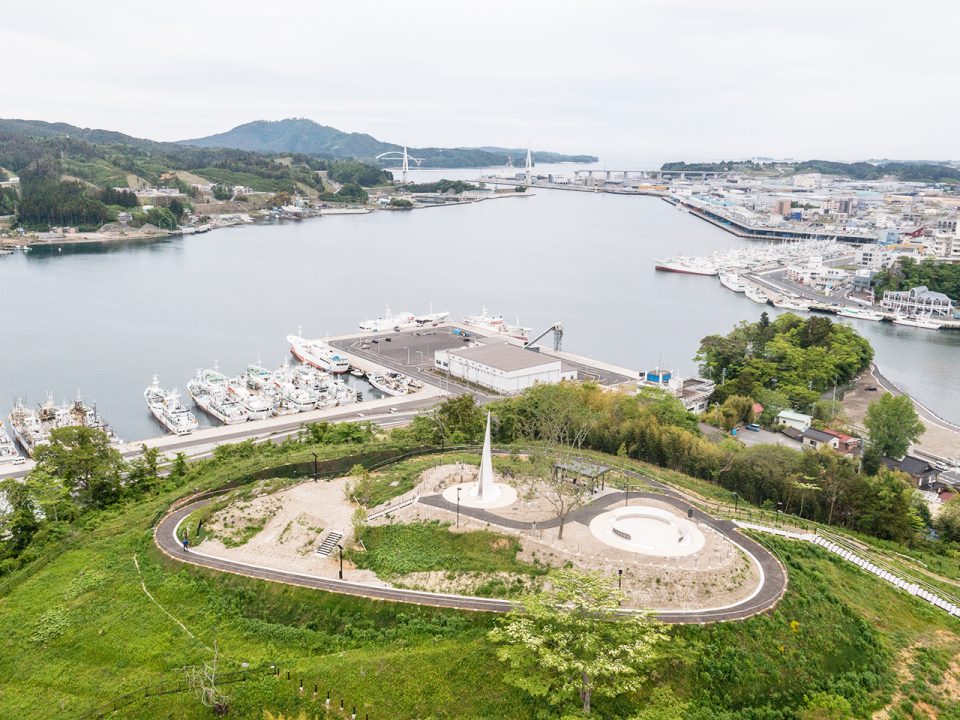 Kesennuma Reconstruction Memorial Park
---
The hill overlooking the Shishiori, Naiwan, and Minami-Kesennuma areas is called Jinyama.
In March 2021, Kesennuma City constructed a reconstruction memorial park here on the hillside. The park serves as a place to mourn the souls of those who lost their lives in the Great East Japan Earthquake, refresh the mind set of disaster preparedness, and pray for eternal peace while focusing on the recovery of the region.
The park features a nameplate with the names of the deceased, a 10-meter-high monument called "Prayer's Sail" that resembles a ship's sail, three sculptures titled "To the Sea," "I'm sorry," and "Thank God," and a strolling path with a 360-degree view.
The park was completed in early spring, exactly 10 years after the Great East Japan Earthquake.
Sadness, regret, nostalgia, looking up at the sky and feeling motivated—we will continue to live our lives carrying abundant feelings in front of each and every name engraved on the nameplate.
Kesennuma was one of the main filming locations for NHK's television drama series Okaeri Mone (broadcast from May 17, 2021, to October 29, 2021). The main character, Momone Nagaura, was told by her doctor, Kotaro Suganami, "I can't understand your pain, but I want to understand it," and this deeply touched the hearts of the residents of Kesennuma.
Jinyama (literally meaning "camp mountain") is named as such because a battle camp was set up here during the Civil war period known as the Sengoku period (1467-1615).
---
Kesennuma Reconstruction Memorial Park