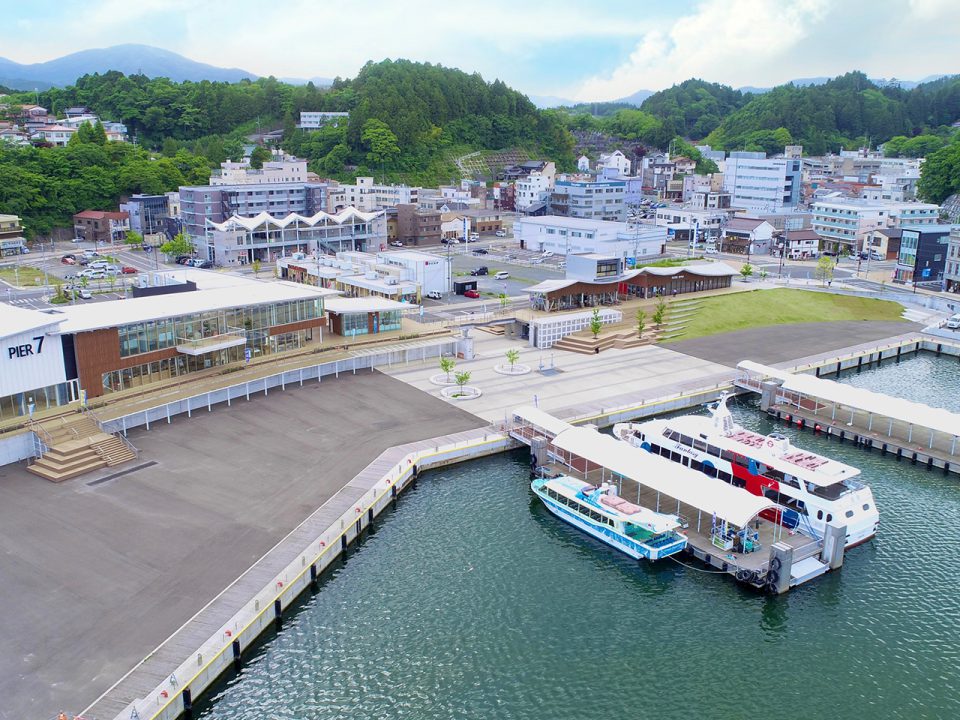 Waterfront Mukaeru and Umareru
---
Before the earthquake, the area of Minamimachikaigan where the floating pier is located was home to a passenger boat terminal for Oshima, a tourist information center, and a multi-story parking lot. It was one of Kesennuma's tourist spots, and tourism was once again the focus of the new town planning for this area.
Residents and the local government engaged in a series of study groups and discussions to work out the large-scale seawall planned here, along with the new town development that would attract many tourists. As a result, they came up with the concept of constructing a new facility to cover the seawall.
From the land, it looks like a three-story building; from the sea, it is a two-story building on top of greenery and a stepped garden. People using the facility may not realize that the terrace on which they are standing is on a seawall. The desire of residents to cherish the connection between the town and the sea has created this new tourist attraction on the waterfront. The facility was awarded the 2019 Good Design Award for Disaster Recovery Design.
Along the port to the north is a commercial facility called Mukaeru (Welcome), and to the south is a public facility called Umareru (Creation).
There is also a sign that reads "PIER 7" at Umareru. This marks the seventh pier in the port of Kesennuma, divided from the north.
---