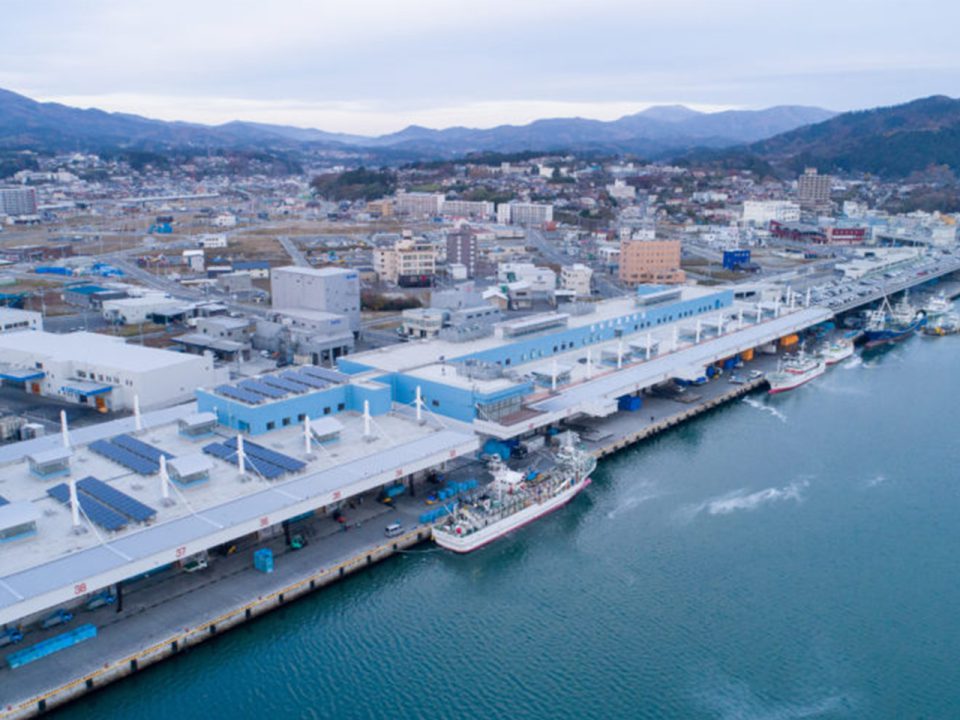 Local Wholesale Market Kesennuma Fish Market
---
Landing and trading of catches used to take place on the shores of Sakanamachi during the Meiji period.
With the development of the legal system for fish markets, Kesennuma Fish Market was opened in 1935 at Minamimachikaigan, about 800 meters north of this point. The market was established by the town of Kesennuma and operated by Kesennuma Suisan Soko, a cooperative of seafood processors. However, there had been some changes in the operators due to institutional reforms. In 1950, Kesennuma Fisheries Cooperative Association became the operator of the market, which was succeeded by the current wholesale business of Kesennuma Fish Market, a local wholesale market.
In the 1950s, after the end of World War II, as the number of fish landings increased and fishing boats became larger, it was imperative to improve and expand the facilities. It was then decided that a new fish market would be built on reclaimed land in the sea area south of the urban area of Kesennuma.
The new fish market opened in March 1956 at the current location, and the Minamimachi fish market closed. The 320-meter-long modern fish market was known as the best fish market in the East at the time. Later, the facility was expanded to a length of more than 700 meters from north to south, developing into one of the top fish markets in Japan in terms of landings.
The fish market was also severely damaged by the Great East Japan Earthquake, especially the south side of the facility, where the entire ground was washed away. However, on the very same site, a new fish market with a length of about 300 meters from north to south was completed in March 2019 as a facility with advanced sanitation control. It is characterized by its long eaves, and the 22 poles on the roof that support it are illuminated in seven different colors, making it a new landmark of Kesennuma Bay at night.
On the second floor of the new fish market are a fishery learning space and an observation deck overlooking Kesennuma Bay, which is open to all. The cooking studio on the same floor is used by all kinds of people for cooking classes.
---