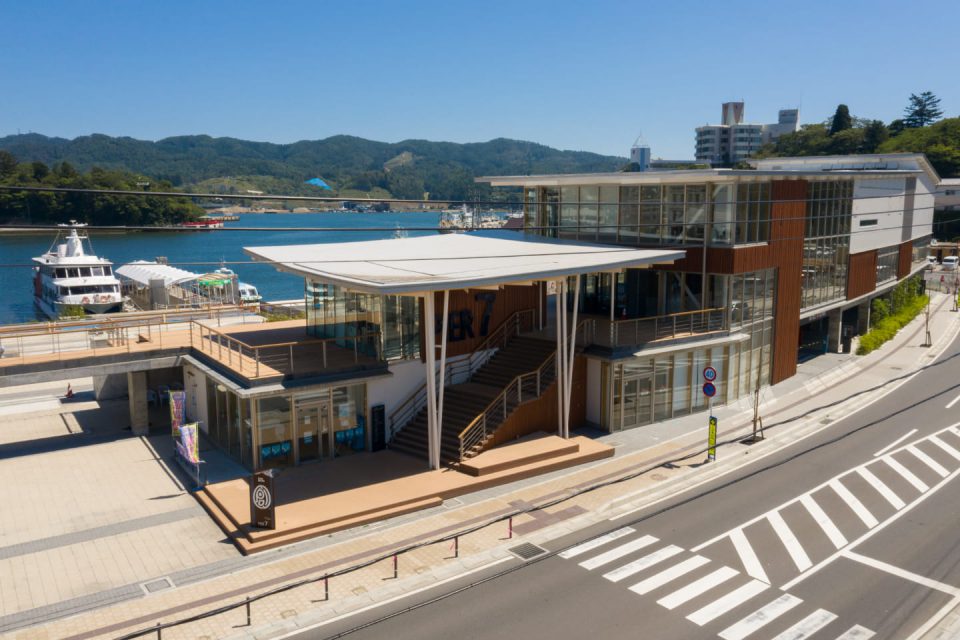 ---
Kesennuma has been spearheading their recovery from day one after the 2011 tsunami. Infrastructure, the vital fishing port, and housing for the people who were displaced were top priorities in the earliest stages after cleanup. However as these goals took shape, the need for leisure, communion, food, and drink was the next obvious step.
Temporary bars and restaurants quickly went up, but the people knew that for true recovery, as well as revitalizing the tourism industry, some large, permanent, and symbolic locations would be needed. "Naiwan" meaning inner bay, also called Pier 7, has become a monument to recovery in this sense.
A collection of cafes, dining, shops, a recreation area, as well as meeting and study spaces make up the inside of this modern and stylish structure, and the surrounding area is designed for relaxing strolls along the port, making it rival some of the more developed port areas of Japan such as Yokohama. Pier 7 sits at the end of Kesennuma port, to either be the beginning or end of a nice walk along the water's edge.
The whole atmosphere of the area seems very new and youthful, not only attracting young travelers and locals, but also being a new beacon of hope for Kesennuma's future, creating a place for leisure, and also communion and collaboration.
---