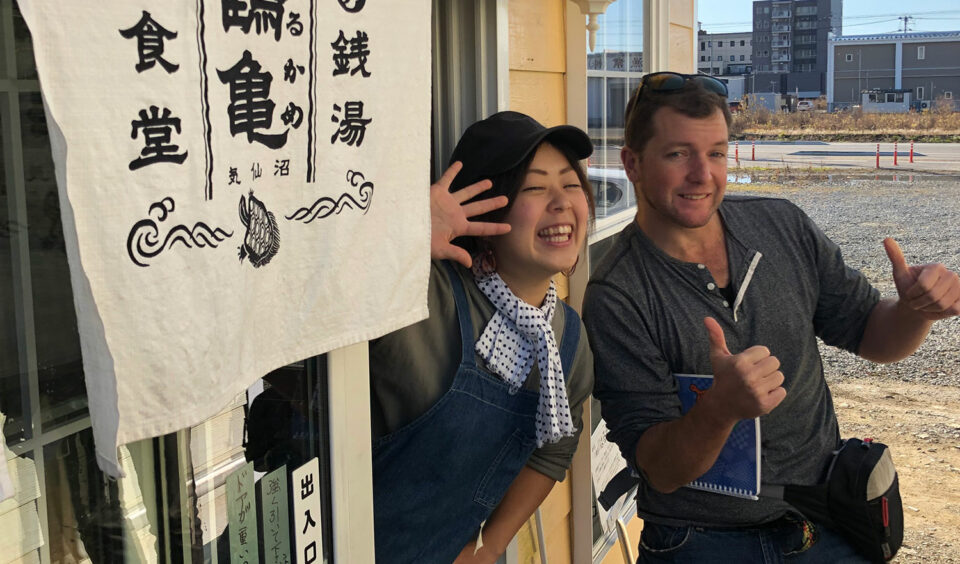 Jan 23,2020
Finding Your Role in Society and in Life
---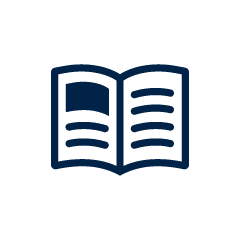 Stories
---
Post-disaster, Ema Negishi came to volunteer, and Nishant Annu was sent as a language teacher. Both now call Kesennuma their home. This is an account of the themes of our talks, centered around why Kesennuma appeals to these young people, and what their newfound role in this city, as well as their lives is.
Ema is a sort of celebrity in this city. She runs the "Tsurukame Shokudo", a casual, home-cooking style cafeteria with a bathhouse next door, making it a "bath and breakfast" so to say. It's a sure-stop for many fisherman finishing work in the dawn hours, and Ema herself is a big reason they swing by. I prefaced our talk by asking if she was a local, as she completely seemed like one to me. She at first didn't seem to consider herself one, having come here from Tokyo after the 2011 tsunami to volunteer as a college student. I decided to leave that point alone for a bit.
I shifted the talk to why she chose to stay here, and what she finds appealing about the city and its culture. Aside from her admiration of the fisherman lifestyle, she was excited to tell me that people here "see you as a person first". People in Kesennuma, she said, look not only at what you are, but who you are. We are not as defined by our titles as much as by our humanity here. This mentality was immediately apparent to Ema when she arrived. In particular, Ichio Kanno, who offered her nearly wrecked home to volunteers during the recovery effort, welcomed all with open arms and smiles. This inspired Ema in more ways than one. In the obvious way, that someone could be so positive and uplifting despite the severity of the tragedy, but also on a deeper level in the sense that a person, through their spirit and "self", could create such a valuable role.
We then talked about the appeal of the fisherman culture to her. She thinks fisherman are very cool, and we tried to extrapolate why she thought this. Of course, the grit, bravery, and "on your feet" thinking is one part of it, but it also has to do with identity. Ema met an older fisherman who managed to save his boat by racing out to sea just before the tsunami struck. When he returned, he found the city in ruin, and essentially all his things gone. She asked him why he would bother continuing fishing, and he replied "well, because I'm a fisherman", and this struck a chord with her.
Ema finished her education in Tokyo, but soon found herself returning to Kesennuma. She started her cafeteria, and over time began to realize that she was gradually forging a role, not only in the recovery, but in the lives of the people around her. Kesennuma is on the upswing, but still has a long road to recovery ahead. It remains what it always was, but is somewhat of a new frontier now, willing to accept anyone with an idea to contribute. It isn't as though there is an empty role that needs to be filled, and people start sending their job applications. It's a more intangible process that requires putting the person before the title. Ema, the person, has become the face of the Tsurukame Shokudo, and who she is and what she is has become one and the same. Her role is irreplaceable, and were she to leave, her role would leave along with her.
Japanese has a word that has seen traction online recently: "Ikigai". Ikigai is a somewhat abstract concept that roughly translates to your "reason for being". When who you are and what you are align in harmony, you can get closer to your reason for being. It's hard to know if you're getting closer, but when the time is right, you'll likely know. We revisited the question of what it means to be a local then, and both realized that someone who is contributing to their society, and in this case ongoing recovery, through what they offer as a person to those around them is about as "local" as you can get. And what reasons for "being" do we have other than enjoying our role in our community?
Nishant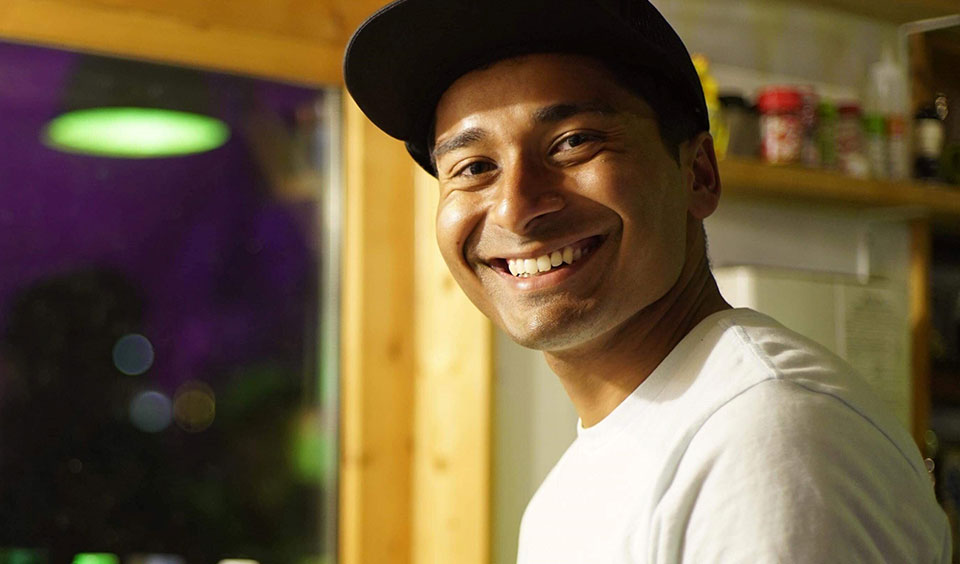 Nishant was "washed ashore" in Kesennuma so to say, being placed here through a government English language teaching initiative, the JET program. He didn't specify a preference for a location in his application, and was placed here completely by chance. There has never quite been a better example of "off the boat". Nishant knew little about Japan and much less the language, yet he found himself in Kesennuma of all places, in the early days of the immense recovery effort.
On the surface, it may seem like an unlucky placement for him, given that it is a rural location, and much of the infrastructure had been wiped out around the city center. However, taking a closer look at Kesennuma shows that it was an incredible location for him to begin his time in Japan. Kesennuma has always been a more globalized area, welcoming and moreover excited to have people from all over the world come to their city. After the disaster, this spirit was not washed away, but rather strengthened with the newfound resolve that Kesennuma more than ever needed outside contributions.
When we spoke of his initial welcome to the "yatai-mura", a crude collection of temporary structures for bars and restaurants, I could sense the emotion in his voice. Despite the hardships nearly everyone in town faced, Nishant felt a warmer welcome than he thought possible, and he instantly felt like a part of the community. His assigned role at the time was an English teacher at a public school, and everyone had the utmost respect for what he was able to offer both socially and with his work.
His contract as a JET English teacher would eventually be up, and he returned to America to pursue other things. Before long however, he found himself drawn back to Kesennuma to assist with their tourism industry. This would be the true beginning of him carving his own role in this unique city, which at the time (and to this day) was under even more unique circumstances. He is becoming a key element in connecting Kesennuma to the rest of the world that has yet to discover this special pocket of northern Japan.
Now, everyone knows Nishant. Like Ema, they know him as the person first, and know that the role he embodies is now an irreplaceable part of their city. I was a bit jealous in fact, as I, another American, had spent about 6 years in Tokyo before relocating to a (slightly) rural area further south, and I never got the sense that I truly mattered in my community much. Yet in a short time, Nishant has been able to fit seamlessly into this city as a mover of industry, and in the simpler sense, a guy with a lot of friends.
Kesennuma's traditionally open and welcoming atmosphere is partly responsible for this, but since the tsunami of 2011, it has opened itself further as a frontier for new ventures, encouraging and celebrating any new roles that are born in the city. Once washed ashore, Nishant now takes his new role by the helm, steering through the unpredictable future, but, like Ema as well, perhaps a bit closer to his true purpose in life.