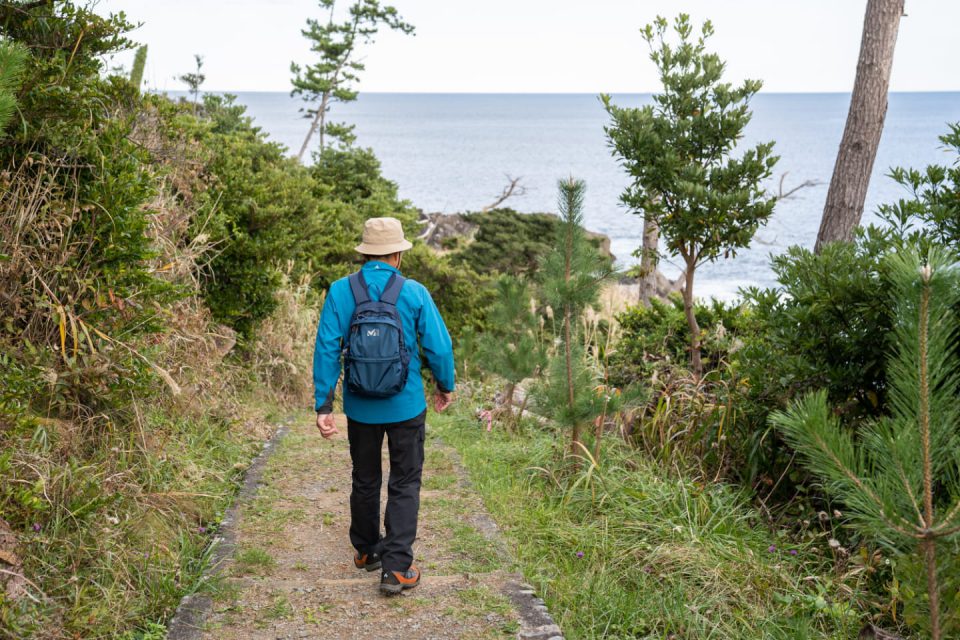 ---
"Olle" is actually a Korean word for a narrow strip of road, and here on the coast of Karakuwa, it's used to refer to this neat hiking course along the coast. The "Ria" coastline dips in and out with a waving pattern up and down the coast, creating sheer cliff faces with rocky outcroppings. Japan's climate allows dense vegetation to grow right up to the cliff's edge, making a beautiful contrast of natural greens and blue to enjoy as you explore the coast.
The course stretches over the peninsula of Karakuwa, with one starting point being the "Ore-ishi", a tall rock emerging from the ocean that has been cleaved by a tsunami in the past. The course will take you all the way to the tip of the peninsula, ending at the Karakuwa visitor center, which is rich with local history, and has a "tsunami simulation" experience. Checkpoints mark the course so you won't get lost, but you can always veer off and make your own way through this picturesque landscape and town.
Combined with Kesennuma and Oshima, add another element to your panoramic exploration of this amazing bay with the Olle course. After learning so much of the tsunami struggles the region faces, it's a breath of fresh air to see the ocean in one of the most beautiful ways possible.
---