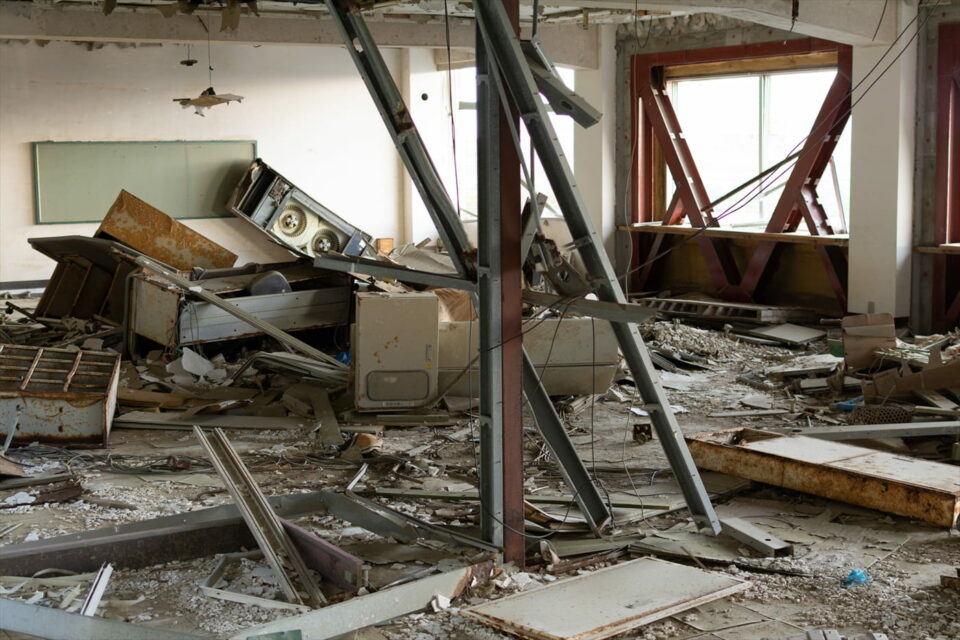 Ruins of the Great East Japan Earthquake Kesennuma City Memorial Museum
---
The Ruins of the Great East Japan Earthquake Kesennuma City Memorial Museum, also called "Denshoukan", is the building of Koyo high school as it still remains after withstanding the tsunami in 2011. Both the building's exterior and interior are left as they were, and it now remains as a tangible and visible memory of what happened on that day. The official entrance is a newly built annex to the side, which also has various literature and artwork related to the tsunami.
Koyo high school is very close to the coast, and in that particular area, the tsunami reached 12 meters, which was up into the third floor of the building. Teachers made the quick and wise decision to evacuate the students immediately after the earthquake, but a few remained to ensure the evacuation was successful, before retreating to the roof of the building in the nick of time. Walking through the ruined halls, which is lined in some places with pictures of the school as it was beforehand, and standing on the roof where faculty members nearly met their end is a humbling experience, bringing you as close as one could possibly get to the events of that day.
The recovery mindset of the people of Kesennuma is inspiring to say the least. And although the history of tsunamis here is a dark one, it's still a part of their past they can never forget. The Denshoukan is a humbling monument, and honors the memories of all those in Kesennuma and beyond who can't be here today.
---
Ruins of the Great East Japan Earthquake Kesennuma City Memorial Museum